Top News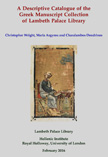 Online-Catalogue
, compiled by Christopher Wright, Maria Argyrou and Charalambos Dendrinos with the technical advice and support of Mr Philip Taylor at RHUL Hellenic Institute, History Department, in close collaboration with Lambeth Palace Library


---





Call for papers:
International symposium
23.-24.9.2016, Graz (Austria)
The symposium will discuss the relationship between digital scholarly editing and interfaces by bringing together experts of DSEs and Interface Design, editors and users of editions, web designers and developers. It will include the discussion of (graphical/user) interfaces of DSEs as much as conceptualizing the digital edition itself as an interface.
Please submit your proposal for a talk at the symposium until April 17, 2016 to . The proposal should not exceed 700 words.
There are funds to reimburse travel and accommodation costs. Please indicate with your submission if you need financial support.


---




Application open for:
funded by the Digital Scholarly Editions Initial Training Network (DiXiT) and run by King's College London with the University of Cambridge and the Warburg Institute
2 - 6 May 2016
Cambridge and London
The course is open to any doctoral students working with manuscripts. It involves five days of intensive training on the analysis, description and editing of medieval or modern manuscripts to be held jointly in Cambridge and London. Participants will receive a solid theoretical foundation and hands-on experience in cataloguing and editing manuscripts for both print and digital formats.
For further details contact .
---